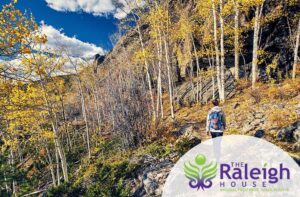 In 2016, nearly 8 percent of Nebraska residents aged 12 and up suffered from a substance addiction. That's a little over 150,000 people out of the nearly 2 million living in the Cornhusker State.
When comparing statistics, the data shows that there are other states who have been hit harder by addiction and the opioid epidemic. But when the suffering from substance abuse happens to you or someone you love, the data doesn't matter.
Your life has been shaken to its core and your entire world has been turned upside down. What you need now is a place where you can get help; a place that will get you out of the toxic environment that influenced your addiction; a place that won't treat you like a statistic.
In this article, we'll take a look at 5 key reasons why you should travel out of state to Colorado to get addiction treatment at The Raleigh House.
5 Reasons to Get Treatment at The Raleigh House
1. We Get You Out of Your Everyday Environment
Your substance abuse has become part of your everyday routine. You wake up hungover, so you pour yourself a drink to try to feel normal and down several cups of coffee to get you moving. You barely make it through the work day, only to come home and immediately pop open a beer. It's a repeating cycle you can't help but feel trapped in.
When your addiction has completely consumed you, it's hard to know which way is up. That's why it's so important to go to a treatment center that gets you out of your normal environment.
At The Raleigh House, you don't have to worry about hiding your addiction or running into someone you know. You're a state away, surrounded by open land, crisp mountain air and a supportive team dedicated to guiding you through treatment. At our wellness lodge called The Ranch, this is where you can heal from addiction and start over.
2. We Focus on the Underlying Causes of Your Addiction
We know you didn't just wake up one day and decide to become an alcoholic or abuse opioids. There are many reasons why a substance addiction develops, including trauma or a mental health disorder like depression or anxiety.
At The Raleigh House, we don't just put you in detox and then send you on your way. Once you've successfully completed detox, you enter our residential program where we focus on getting to the bottom of why you started drinking or using drugs.
We leverage individual therapy, group therapy and other methods like equine therapy to help you uncover and face trauma or negative thoughts and emotions that have plagued your life. Once you discover these insights, we help you develop new techniques and strategies to cope with the triggers and mental health challenges you're facing.
3. We Don't Force New Beliefs on You
We know you have your own beliefs, ideologies and routines. We also know you're most comfortable with what you already know and are familiar with. At The Raleigh House, we're not here to back you into a corner. Rather, our program is designed to guide you towards a fulfilling and passionate life of sobriety.
When you come to The Ranch, it is true that we'll challenge you and it won't always feel comfortable. But we'll never force religious activities or faith-based practices on you. Instead, we help you break the negative habits of addiction and replace them with healthy practices like yoga and eating healthy foods that you can carry into your everyday life following treatment.
4. Our Program Eases You Back to Everyday Life
Your recovery doesn't end with our residential treatment program, because we know returning to everyday life can be jarring and tempt you back to substance abuse. Once you're done with our inpatient program, we recommend you transition to outpatient treatment to help you slowly ease your way back to your normal routine.
During our outpatient program, you'll still meet with a therapist regularly, learn more about proper pro-recovery nutrition and practice the recovery techniques you learned at The Ranch. The difference is you'll begin to do normal, everyday activities again, like working, going grocery shopping and going to the movies.
5. We Accept Insurance, like Medi-Cal
One of the most common questions that comes to mind when entering addiction treatment is how you're going to pay for it. At The Raleigh House, we know that's a key stressor that can actually deter people from seeking the help they need.
That's why we work hard to partner with insurance providers like Medi-Cal to help you get coverage for addiction treatment. If you have Medi-Cal and you're ready to get the treatment you need for your addiction, it's time to contact us so we can help you verify your insurance coverage.
Get Your Treatment and Recovery Started at The Raleigh House
Addiction has controlled your life for long enough. It's time to take back control and create a new life where you're happy, healthy and free from substance abuse. At The Raleigh House, we can help you get there. And better yet, our out-of-state location gives you the best chance to get away from your old environment and take the first step in lasting recovery.
If you're ready to learn more, we're here to answer your questions and talk more about our unique and effective approach to addiction treatment. Fill out our form or contact us today to learn more.